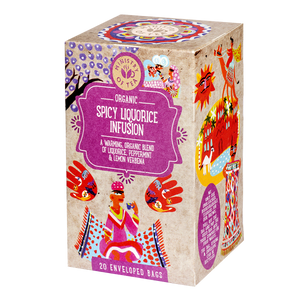 The alchemists at. the Ministry have worked their magic and created this spicy, warming liquorice blend to pour straight into your cup. Enjoy this fragrant infusion at any time of day. 
Ingredients: Organic Liquorice Root, Organic Lemon Verbana, Organic Peppermint Leaf.
Warning: Pregnant women and those suffering from hypertension should avoid consumption of Liquorice. 
How to make a cracking cuppa: Pour fresh boiling water over the tea bag. Infuse for 3-5 minutes. Add honey for a warming winter brew. Sip and enjoy!