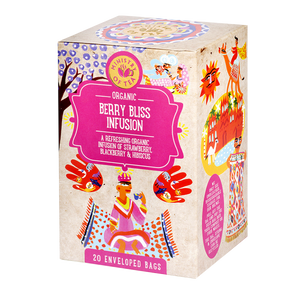 The alchemists at the Ministry have worked their magic and created this blissful blend of berries ready to be poured straight into your cup. Enjoy this fruity, refreshing infusion at any time of day. 
Ingredients: Organic Hibiscus, Organic Blackberry Leaves, Organic Chicory, Organic Strawberry Leaves, Natural Strawberry Flavours, Natural Blueberry Flavours, Organic Acai Powder 
How to make a cracking cuppa: Pour fresh boiling water over the tea bag. Infuse for 3-5 minutes. Add honey for a warming winter brew, or serve chilled over ice with lemon on a hot summers day. Sip and enjoy!