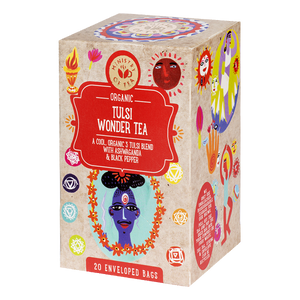 All bow down to the Holy Basil, aka Tulsi, an adaptogenic (stress busting!) herb used in Ayurvedic remedies for thousands of years. We have blended the wonderful Tulsi Trio - Rama, Krishna and Vana - with Ashwagandha, the celebrated vitality booster and black pepper, for a cool blend that will work wonders.
Ingredients: Organic Tulsi (Rama) (50%), Organic Tulsi (Krishna) (20%), Organic Tulsi (Vana) (8%), Organic Ashwagandha, Organic Black Pepper
How to make a cracking cuppa: Steep in boiling water for 3-5 minutes... longer if you like it stronger! Sip and enjoy.