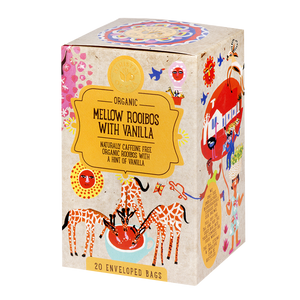 Enjoy our mellow Vanilla Rooibos. A delicious tea made from the needles of a yummy South African herb and flavoured with Vanilla. As it's caffeine free it's the perfect cuppa to have at any time of day or night. 
Ingredients: Organic Rooibos, Natural Vanilla Flavour 
How to make a cracking cuppa: Pour fresh boiling water over the tea bag. Infuse for 3-5 minutes. Add honey and your milk of choice for a warming winter brew, or serve alone. Sip and Enjoyj!